With today's high-tech, durable, water-resistant floor finishes a kitchen hardwood floor is a popular choice.  Hardwoods are one of the most requested floors in remodeled homes in Brooklyn NY.  Installing hardwood floors in your kitchen gives your home a spacious look.  Open floor plans where the living, dining and family room share the same hardwood floors is good design flow.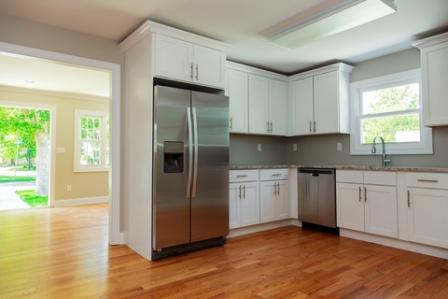 Kitchen Hardwood Floor
Kitchens are high traffic areas in the home that are prone to liquid spills and food droppings.  This can test the durability of a floor.  Gritty items like coffee grinds dropped on kitchen floors get ground under shoes and are abrasive on wood floors.  Fortunately, the latest technology of wood floor finishes are extremely durable.  They offer tough protection from everyday wear and tear and will keep your floors shining like new for years.
Polyurethane Floor Finish – Oil
An oil-based polyurethane wood floor finish is what most professional hardwood floor finishers use to protect kitchen floors.  Oil-based polyurethane floor finish is a good choice for kitchens. Durable and easy to apply, oil floor products are an excellent choice.  Due to the oil in the product, understand that the dry time is longer than the water-based wood floor finishes.
Polyurethane Floor Finish – Water
Water-based polyurethane floor products are much tougher than they used to be and almost comparable in durability to oil polyurethane products.  They dry faster and have a low VOC.  The water-based wood floor finishes are considered a good choice for kitchen floors. They are more eco-friendly however they do tend to cost more per gallon.
Best wood for kitchen floor
Oak, Maple and Cherry are excellent hardwood floor choices for kitchens.  They are dense and water-resistant.  While Bamboo can be a good choice for kitchen floors because it is water-resistant.  It is ecologically friendly and easy to renew.  However, you will need to use the right species of bamboo for a kitchen wood floor.  Some bamboos can be as soft as pine wood and scratch easily.  If you want bamboo kitchen floors make sure you get a hard species of bamboo.  Technically, bamboo is not really wood. It is a grass.  It might be best to stick with a true hard wood for a kitchen floor such as oak.
A1 Expert Flooring in Brooklyn NY installs, repairs, refinishes, polishes and shines hardwood floors in kitchens, dining rooms, living rooms, bedrooms, staircases and more.  Family owned and operated, our hardwood floor company which has been in business for five generations. We take great pride in our work.
The Cannata family is one of the oldest, operating hardwood floor contractors in Brooklyn.  We have been installing, repairing, refurbishing, refinishing & restoring hardwood floors since 1925.
If you would like a FREE ESTIMATE for hardwood floor work, please click here to fill out our FREE ESTIMATE FORM.  The inquiry goes straight to our smartphone.  We are a hands-on family business, therefore our hands are working on floors most of the day, therefore the inquiry form is the best method to reach us if you;d like to learn more about the cost of hardwood floors.  We will call you back as soon as we can and set up an appointment to discuss your hardwood floor needs.  Thanks!  – Steve Cannata.